The Company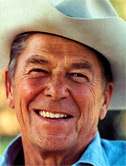 W Ketchup was launched on June 14, 2004, nine days after President Ronald Reagan died at age 93. We thank President Reagan for his selfless service to this nation.

Reagan won the Cold War, let private enterprise flourish, and most of all made Americans proud to be Americans again.

"We look for that fine day when we will see him again, all weariness gone, clear of mind, strong and sure and smiling again, and the sorrow of this parting gone forever. May God bless Ronald Reagan and the country he loved."

W Ketchup™ was founded to recover what it is to be an American and enjoy smooth, rich ketchup.

Too often, great American brands have lost their way, forgetting those who made them successful: the American consumer.

W Ketchup stands not only for delicious ketchup, but also for the principles that made this country great.


W Ketchup is made in America, by Americans, only from American ingredients, and it is sold only in America. W Ketchup represents a choice: a choice to enjoy delicious ketchup without supporting non-traditional agendas. Unlike other brands of ketchup, W Ketchup does not donate any money to politicians or political groups. The only place W Ketchup donates money is the Freedom Alliance Scholarship Fund, which provides college scholarships for the children of our brave heroes killed in action.
The Ketchup
W Ketchup avoids the harsh, vinegary taste of some of its competitors, and instead blends its ingredients into a smooth, rich flavor that enhances any meal. W Ketchup also offers a healthier alternative with new, Organic W Ketchup™ made from only the most natural ingredients.
W Ketchup in the home, outside, or at a restaurant signals an individual who isn't afraid to take a stand and exercise the right to have the right brand of ketchup. W Ketchup breaks the ketchup monopoly to give Americans a choice. W Ketchup is America's ketchup.
Supporting the Freedom Alliance Scholarship Fund

A portion of every W Ketchup™ sale is donated to the Freedom Alliance Scholarship Fund, which provides scholarships for the children of active duty service members killed in the line of duty.
Freedom Alliance President Tom Kilgannon said, "When I heard that W Ketchup was donating a portion of their sales to the Freedom Alliance Scholarship Fund, I shouted, 'Hot dog!' We relish the opportunity to be involved with such a great product and a great team."
Kilgannon added, "The purpose of our Freedom Alliance Scholarship Fund is not only to help qualifying young men and women meet the increasing costs of a college education, but also, to remind them that their parent's sacrifice will never be forgotten by a grateful nation."